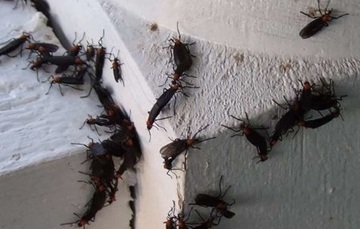 Twice a year - each May and September, we Floridians get to experience that "oh so lovely" love bug season. Generally seen flying around in pairs, locked in an amorous embrace, these slow-moving creatures happen upon us these seasons for about an estimated four weeks, according to the University of Florida.
While these bugs are harmless (they don't bite or sting) they can be quite a nuisance. Here are a few things to remember about these little critters as they begin their invasion this month:
Where they come from – If you grew up in Florida, or have lived here long enough, you're bound to hear the urban legend that the University of Florida crossbred a ladybug and a fly to create love bugs to combat mosquitos. Unfortunately, as with most urban legends, it's simply not true. UF says the bugs migrated here all on their own from Central America, via Texas and Louisiana before making their way to the Sunshine State.
What attracts them – Love bugs are attracted to heat, freshly painted surfaces and surfaces that are light-colored. This means you'll find them near your garage door a lot and around the outside of your house if it's painted a light color.
How to combat them - Here's where it gets tricky. UF says that chemical pesticides do little to deter these little bugs. You might try tiki torches, citronella candles or mosquito repellent, but the only sure-fire way of avoiding them is by being inside and away from them.
A retractable screen on your garage door and lanai allow you to enjoy the outside air without the "not so easy to love" bugs getting in your hair, tickling your face, and continually landing on your skin.
In the end, the best way to deal with love bugs is to leave them alone. They will go away within a week, then return next Spring.