Beachfront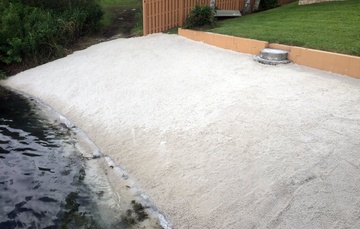 If you live on a lake, you already know how amazing it can be. Our back yards can be a great escape to unwind and let our worries float away. Living in Central Florida, the beach is only a short time away, and sometimes we dream of the beach but are too busy to get away. Wouldn't it be great to look out and see a beach out of your window? If you can't go to the beach, why not bring the beach to you?
During the summer many families enjoy spending time on the lake, with Professional Waterfront Cleanup you can now have a brand new type of fun. By removing all vegetation and bringing in fresh sand, we can create lake beachfronts on your property or restore past beaches to their original condition.
At Professional Waterfront Cleanup we can turn your lakeside backyard into your beach! Imagine stepping out of your door onto a beautiful sandy beach with palm trees swaying in the breeze. Let your dream back yard become a reality while you melt your troubles away in your private tropical paradise.