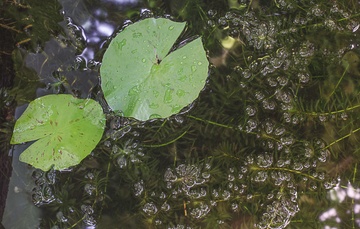 Cleaning up waterfronts are more than just cutting the grass away and pulling up branches. A lot of our job includes finding ways to remove invasive plants that cripple the fragile eco-system. One of the plants we seemed to be continually battling is Hydrilla.
Hydrilla is found in freshwater and can survive in less than ideal conditions. It is submerged with roots that grow to the bottom with long stems that branch out on the surface. On the surface, it forms clumps of thick mats with small white flowers.
It is a threat to waterways all over because the dense mats suffocate the plants and wildlife that live in these waters. Hydrilla changes the pH of the water while removing oxygen, preventing the growth of native plants. It blocks aquatic life from receiving vital nutrients. Also, it hinders water flow for irrigation and recreation.
Hydrilla is also the perfect breeding ground for deadly algae known as Aetokthonos hydrillicola. This alga is killing bald eagles and coots by releasing a neurotoxin that is deadly to these birds.
In the 1950s hydrilla was sold as aquarium plants Soon after people realized the plant was unsuitable and began dumping them into canals in Tampa Bay. By the 1970s Hydrilla was found in Maryland and can even be seen as far west as California and Washington State.
At Professional Waterfront Cleanup we have ways to clear hydrilla from waterways while protecting the fragile aquatic environment we cherish in our Central Florida Waterways. Contact us today for a free quote.