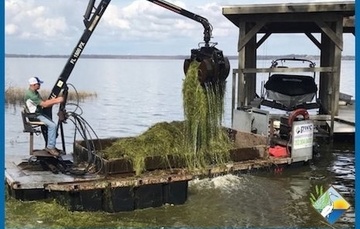 Florida is known for many, many acres of beautiful land.  A lot of this land has some waterfront properties, and when it comes to settling down, a home looks mighty nice with a lake view. But how does a homeowner keep their waterfront properties looking nice? That's where Professional Waterfront Cleanup, or PWC, comes in.
What keeps PWC a step above the rest is their commitment to specializing in the personalization of eliminating unsightly aquatic weeds from hijacking your lake view. Each client of PWC has their needs assessed, and solutions are made individually, unique to every issue.
Their primary goal is to keep your property looking serene and neat, providing customers with herbicide treatments that are specific to their needs. On top of eliminating the problem from the root (literally), PWC also cleans up the area; taking more than a little off the top to make sure each client knows the potential their waterfront property has.
No area is too big or too small for PWC to tackle! Residential areas aren't the only ones with waterfront weed issues, their services are requested by commercial businesses, golf courses, HOAs, marinas, public parks, government facilities, even retention ponds and storm drains! PWC's staff is fully trained to take on any issues surrounding various bodies of water as well, such as ponds, canals, basins, rivers, you name it.
Not only is the staff at PWC well versed in aquatic herbicide, but they also offer services in dock restoring and dredging. This eliminates the needs to hire more than one company for your waterfront needs, saving you time and money in the end.
Besides all these great qualities and benefits to hiring PWC, you also get peace in knowing that PWC works eco-friendly! Attention is paid in close detail to what goes into the herbicides and what the effects will be, as to keep everything in EPA guidelines. PWC also works closely with the FFW (Florida Fish & Wildlife) Conservation Committee, making sure to stay by the book and keep it efficient.
If your waterfront is starting to look like a swamp, it might be time to get ahold of PWC today!