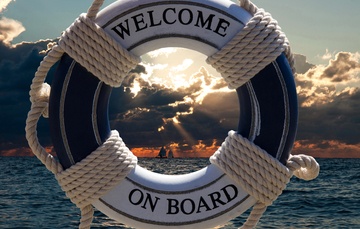 There are few places more beautiful to enjoy nature's beauty and wildlife than on the waterways of Florida. While you're boating, you're likely to run into longtime residents of the waterways– alligators and other wildlife. If you do, follow these tips to stay safe while enjoying boating on Florida waters.
Don't feed alligators or other wildlife. Most wild animals, including alligators, are naturally afraid of humans. They become bolder when fed with food other than their natural prey. Feeding them encourages them to seek out people to find more readily available food. Enjoy the beauty of our gators, turtles, ducks, and birds, but keep the people food to yourself.
Wear polarized sunglasses while operating a boat. Polarized lenses make it easier to see things under the water without the glare of the sun blocking your vision. This solution is helpful when manatees are around so that you can avoid seriously injuring these endangered animals. Slow down and observe all posted "manatee caution" signs.
Watch while you fish. Be cautious when casting your line near alligators. Some gators will see a hooked fish as a snack and try and grab it. Also, avoid fishing in or near thick vegetation and along the water's edge where alligators like to hang out. Florida has very specific rules about alligator hunting. You don't want to catch an alligator on your hook.
Practice water safety. Swimming is an enticing activity in the refreshing waters of Florida, but it's important to play it safe. Keep in mind that if you can't see your arms and legs beneath the water, it's better to find a clearer spot to swim.
Keep your dog on a leash. It's so much fun to bring your dog along for boat rides, but be sure your furry family member is on a leash; especially if you disembark the vessel. You don't want your pet to get curious and go exploring in areas where alligators may be.
If weeds and muck are making it hard to move your boat around in the water, we can help! Contact Professional Waterfront Cleanup for a free estimate.