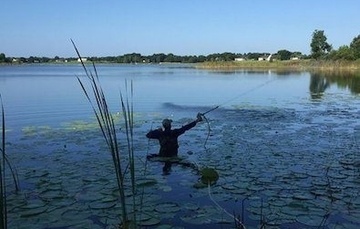 At first glance, the sight of someone spraying a bright blue liquid into the water may seem ominous - especially when the person spraying is wearing a personal protection equipment suit (PPE). Commonly, folks automatically assume that dangerous chemicals are going into their water and wonder whether or not the product is a risk to their family and animals.
In truth (while not commonly advertised to the general public like landscape fertilizers and herbicides), aquatic herbicides are very highly regulated by the Environmental Protection Agency (EPA) and are safe for animals and non-target plants when applied correctly by a licensed applicator per the product label.
Unbeknownst to the general public, getting a product registered for aquatic use with the EPA is one of the most complicated processes one can imagine. Aquatic herbicides are specially formulated to control or kill pond algae and certain aquatic plants. Most importantly, these products are prohibited from marine use if they pose more than a one in a million chance of causing significant damage to the environment, wildlife or human health. Companies that have managed to manufacture EPA-approved aquatic herbicides spend numerous years of research and millions of dollars formulating safe and effective products that pose no risk to human or animal life.
With that in mind, these products still must be applied only by a licensed applicator and following specific product labeling. When you see an aquatic herbicide applicator applying these products to your waterway, you can be sure that they receive constant training to maintain a working knowledge of every product they use and each product's proper handling techniques.
The PPE that they're wearing is for their safety from exposure to concentrated amounts of these aquatic herbicides, which elevates their time of exposure and level of hazard. Their exposure to these products is much higher than that of the average person. Wearing the proper safety equipment is essential to their safety, but is in no way an indication of the nature of the applied products.
So, to answer the question: is aquatic herbicide spraying safe for my waterfront? The answer is yes. It is safe to fish in the pond or lake and for your dog to swim in the water. There is no threat to people, pets, or wildlife in the long term when a licensed professional applies the products under product labeling. Some aquatic herbicide products do carry swimming and drinking water restrictions, and should always be used with this in mind. As professional applicators, we will always choose the correct product for each situation. We consider not only the results but also the use and enjoyment of the body of water as well as the needs of the communities that surround it.
If you are ready for a stunning waterfront view contact the experts at Professional Waterfront Cleanup