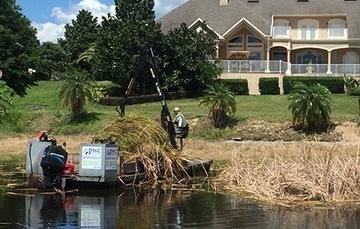 Living in Central Florida we are privileged to enjoy a vast array of stunning water ways that are a source of unlimited potential. Our lakes, canals and rivers are homes for thousands of aquatic wildlife. It doesn't take long to driving down the road to spot sunlight glimmering off the surface of one of these precious Florida treasures.
Of course we know we should keep our water clean of pollution for the sake of the environment and plant and animal life. But why should we clean up the shores of these waters ways? What are the benefits of having a clean water front?
Turns out there are many reasons to clean up your shoreline that benefit both nature and man:
Less creepy crawlies - If left untamed shorelines can quickly get out of hand with snakes, insects and GATORS. Yes these creatures love overgrown weeds and murky waters. Cleaning it up helps keep them in check and also helps us see any creature before we get too close to them.
Easier to maneuver boats - When the weeds get too thick and take over, boats have a hard time moving through the thick growth and muck. Some of these vegetation can seriouly damage the underside of a boat costing the owner a lot of money.
Beachside retreat - Yes thats right, all over florida people are turning their backyards on the lake to beach front get aways. After cleaning up the shore, sand can be brought in to create a beach right on the lake for endless tropical relaxation and fun.
Good for wildlife - Not only is an overgrown shoreside an eyesore, it also chokes the life out of the native wildlife and threatens the fragile ecosystem. Some plants are known to choke the air right out of the water. When the water front is clean and native plants are brought in, wildlife along the shore thrives.
Increases property value - Not only is cleaning up your waterfront a neighborly thing to do it also increases the look of your home and your property value.
If you are ready to create a beautiful water front oasis contact the experts at Professional WaterFront Cleanup.