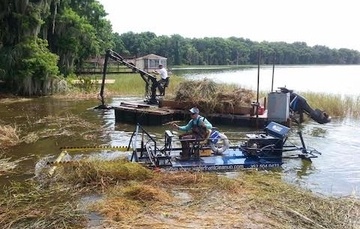 Central Florida is filled with gorgeous waterways and even has an appropriately named county, Lake County, named after all the lakes and rivers that are within its borders.  If you are lucky enough to live in a waterfront home, you know that it is a magical place like no other. Our lakes are home to millions of different kinds of wildlife, some unique to this part of Florida.
While mowing your grass or trimming your shrubbery is something you do might yourself, waterfront cleanup is best left up to the professionals, and here's why:
Safety: Central Florida waterways are filled with alligators and snakes that would love to take a bite out of your ankle. At PWC we have the necessary safety gear to make sure we are protected from these dangerous creatures.
Proper equipment: It takes enormous and expensive machinery to clean up the bottom of the shoreline as well as tree trimming, and to make sure the area around the docks are clean for boats to move through.
Licensed and Insured: We are fully licensed by the state of Florida as a Professional Aquatic Herbicide Applicator. We also have all the proper permits and licenses to operate the machinery needed, and our workers are trained and insured. We are green company and make sure what we do does not harm the delicate balance of our waterways.
Aquatic Experts: PWC knows which plants are hurting your waterfront and which ones are choking off the fragile ecosystem. We know the exact way to prevent erosion and are fully trained in waterfront cleanup in every aspect.
Lastly, it is just WAY easier to sit back, relax, and watch a professional clean up your lakefront property than it is to try to do it yourself.
If you need your waterfront cleaned do not hesitate to contact Professional Waterfront Cleanup!